Sharing is caring and inbound is about creating and sharing content with the world. By creating content specifically designed to appeal to your dream customers, inbound attracts qualified prospects to your business and keeps them coming back for more. The Inbound Methodology covers each and every step taken, tool used, and lifecycle stage traveled through on the road from stranger to customer. It empowers marketers to attract visitors, convert leads, close customers, and delight promoters.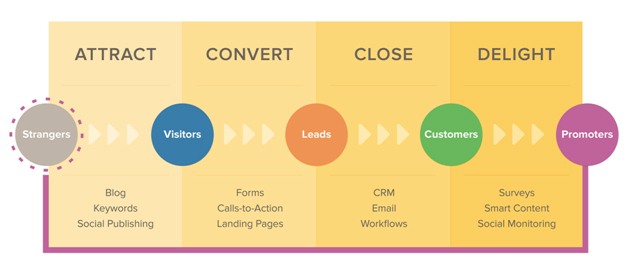 .
CONTENT CREATION & CURATION
Content is king
Creating targeted content that answers prospects' and customers' basic questions and needs, and sharing it far and wide. Unique valuable content combined with right techniques solves multiple marketing issues in a right way and have long term gains. We repurpose all the content created or researched by magnifying it's impact to improve user experience, enhance searchability, educate audience and improving brand value as thought leaders.
LIFE CYCLE MARKETING
Stranger to customer
Brand advocacy not created in a day it is developed gradually throughout the consumers journey by touching them at each step. Brand advocates start off as strangers, visitors, contacts, and customers. Specific marketing actions and tools help to transform those strangers into evangelists. Inbound marketing uses content + engagement strategies like blogs with CTAs (call to action) etc. We blend the two perfectly for you.
MULTI CHANNEL APPROACH
Being available
Inbound marketing is multi-channel by nature because it approaches people where they are in the channel and where they want to interact with you.A 360 degree marketing approach allows a brand to connect with it's audience at various levels the key customized messaging and action points to suite the time, place & mindset. Be with them throughout the journey and capture them when they are ready for you.
INTEGRATION & METRICS
The Machine
Content creation, publishing and analytics tools all work together like a well-oiled machine – allowing you to focus on publishing the right content in the right place at the right time. The content must be in sync with the platform and eventually the consumer thought process, this takes detailed study on consumer behaviour and deeper understanding of tools to derive at the perfect combination of place, time and message.